In these days of forced lockdown, I have changed my working life thanks to my e-commerce shops like Shopify, Etsy, Artpal , Bonanza, Onlyfans and eBay.
But my mind is always looking around to find the best opportunity to earn money and maybe becoming more famous as an artist.
I am a painter, supporting actress, an experienced life model working for the University of Art in London, Bristol and Bath after my arrival in South West of England.
In the past, I worked also as a photo model in some studios included the famous magazines the Sun and the Dailymail thanks to my funny or serious stories published on them.
You must know that during this dramatic pandemic, the British Government is not helping properly the self-employed for a strange formula based on a 50% gap between the total income and the real profit… it seems Boris and company have studied with attention this formula to avoid this support income in favour of a loan to be repaid by the workers to the bank of England in a few years …their colours towards this category of workers are clear now.
Anyway after a research online my attention arrives to a website called purpleport .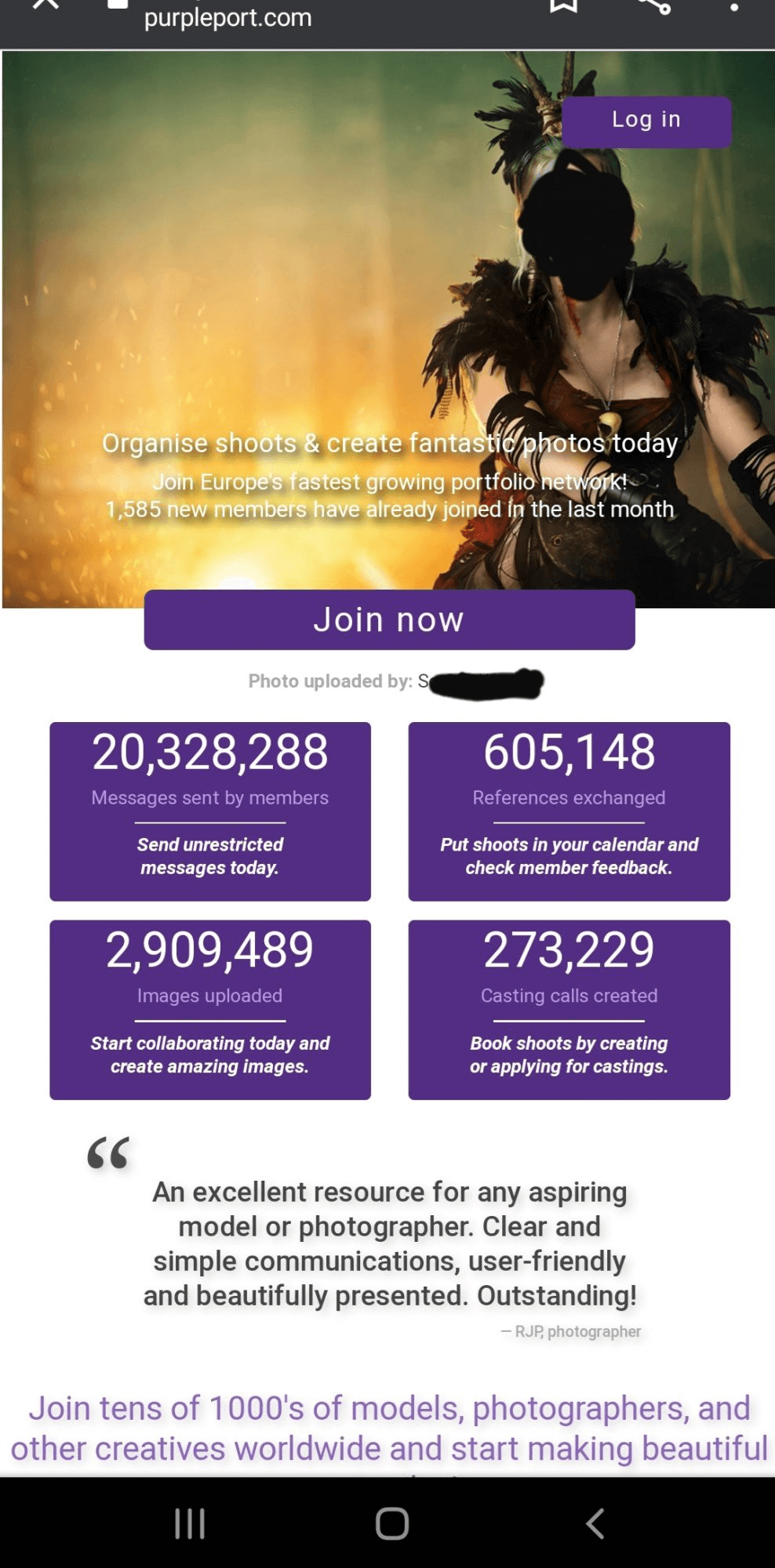 Immediately I am attracted by these words presenting the website as an excellent resource for any ASPIRING MODEL AND PHOTOGRAPHER!
Honestly, I thought the website was a platform for amateur people trying to enjoy themselves playing as photographer and models for unpaid projects called TF.
It seems that more than 1500 new members in the last month joined this portfolio network!!
Wow !! During the pandemic, it was a great success for this purple port .
I usually try to work with professional people but in this period of pandemic maybe I need to change my habits and this website sounds outstanding!
So I start to look at the pictures and strangely the website is not hiding nudity.
Does it mean that a young guy could see what I see ???
During this discovery,
my eyes arrive at a page of a photographer of Birmingham.
And this is the first picture I saw (obviously cropped )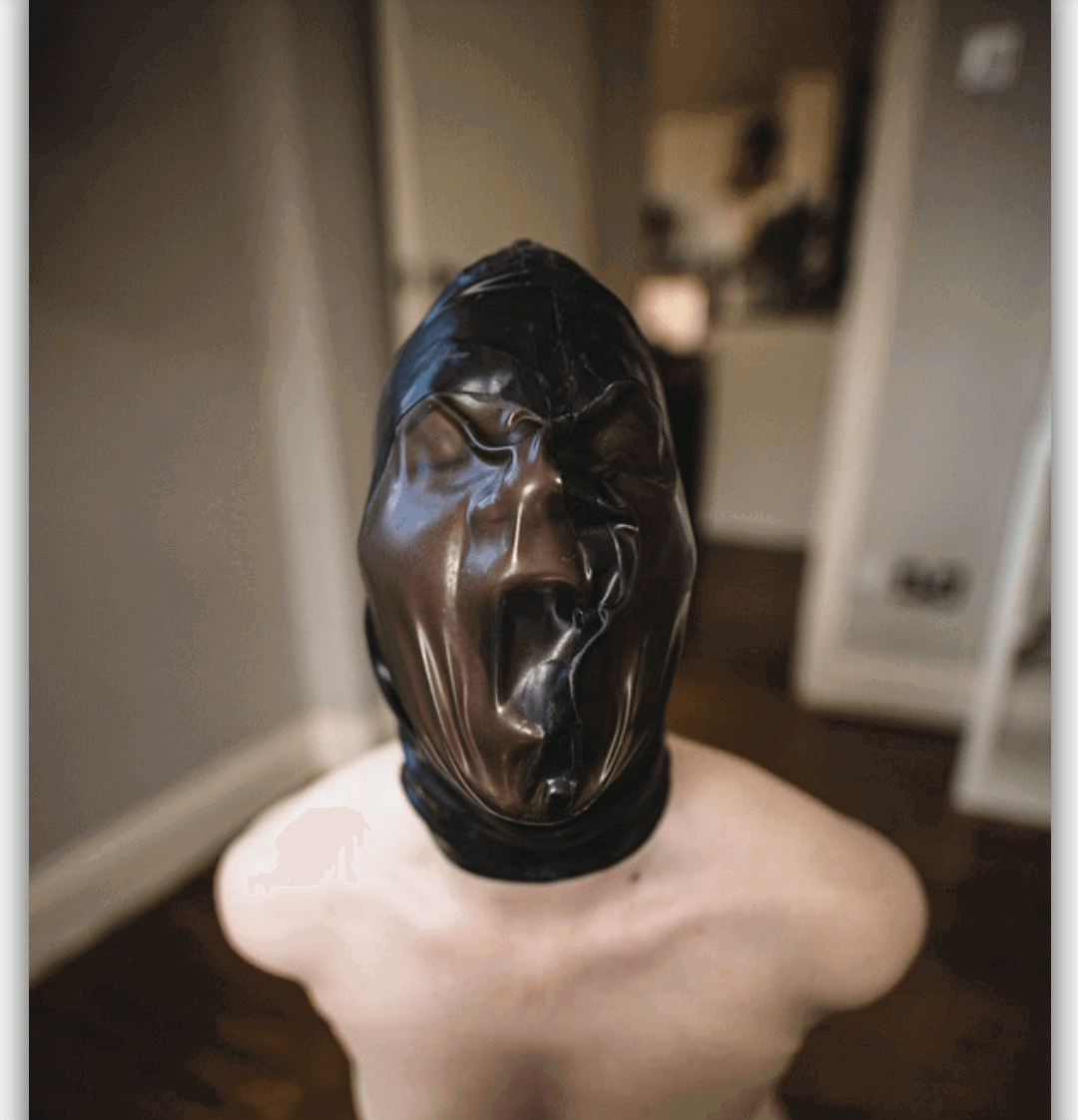 Mmmmm fetish style .
But on the landing page of the website, it is written to join purpleport to do beautiful pictures??? honestly, this picture has nothing of beautiful.. I would say it is horrendous, instead.
Anyway, I carry on to look around to understand if it is really a website for creative amateurs who want to take beautiful pictures for the word of art.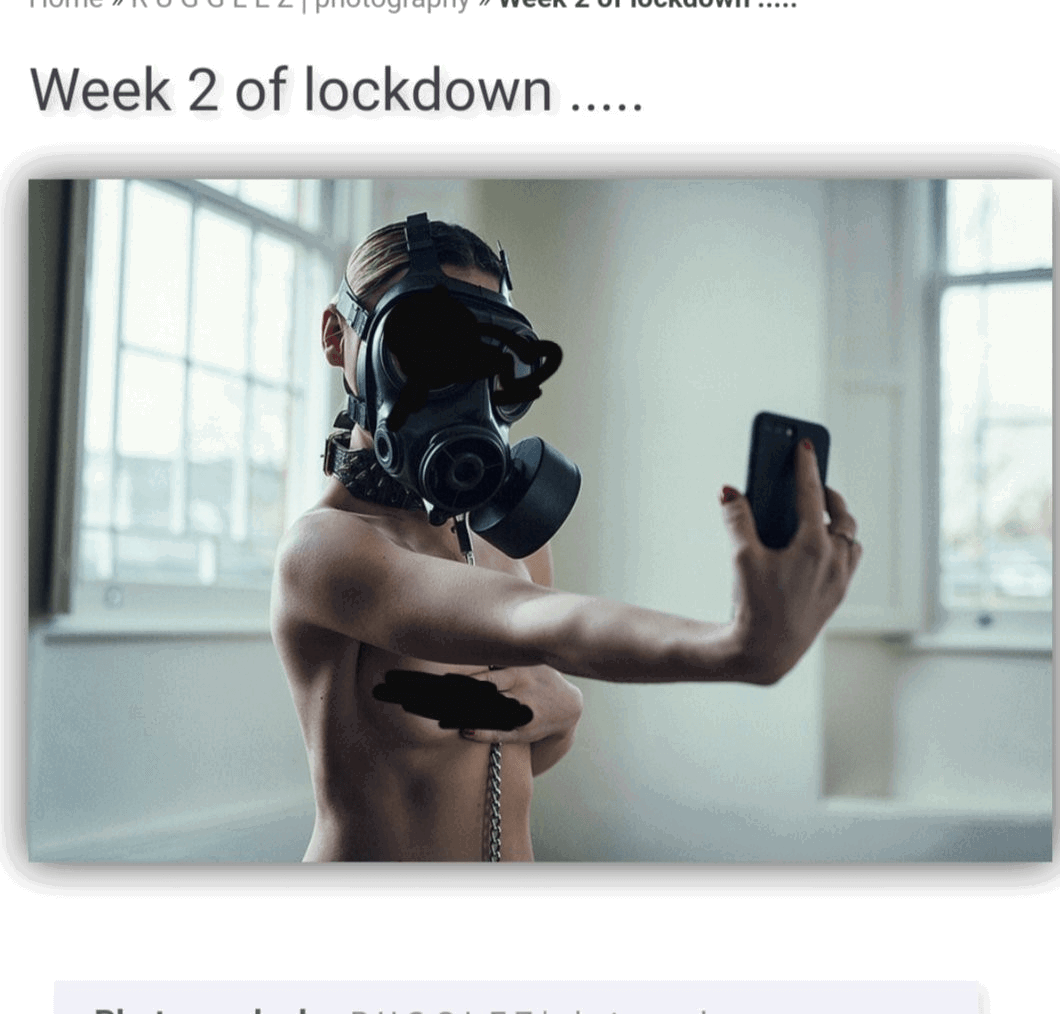 Again another picture of the same photographer of Birmingham with a model playing with a fetish gas mask to fight the COVID during this lockdown.
I am not finding these pictures hylarious and beautiful at all !!
Maybe the photographer was working with her in the same room going against the lockdown rules?
And for my surprise, it seems very easy to join that platform.
No ID or proof of address is requested even if naked women are ready to go around to take pictures with unknown people.
Maybe You can open today your profile with a facked name and ready to strike the pose!?
My curiosity is more and more involved in the website.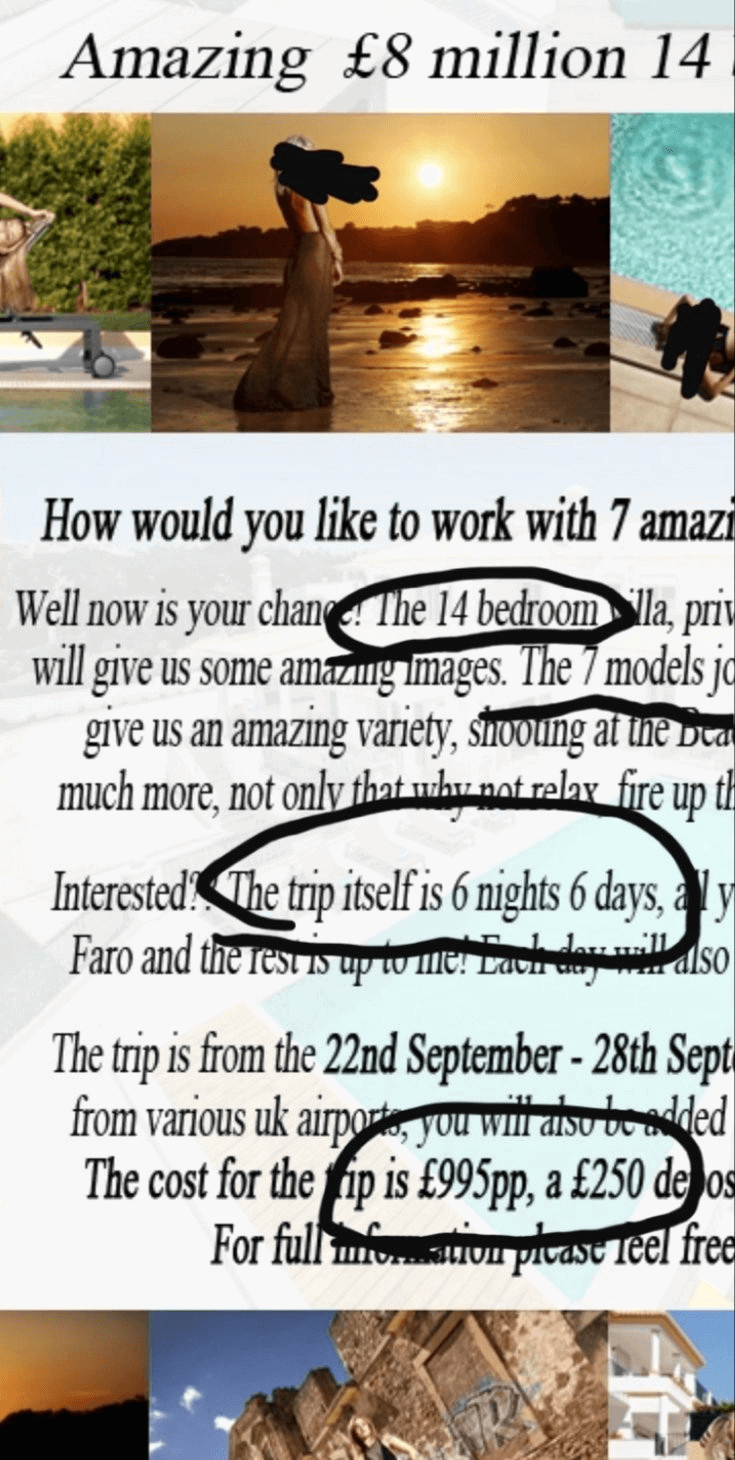 On the profile of a model and of a photographer, appears this advert where they are taking booking for an amazing holiday in an 8 million pound villa in Portugal next September.
14 bedrooms, 7 young girls who play like models found through purpleport and 7 single amateur photographers ready to pay £995 for 6 nights and 6 days! It seems a perfect scene of the sexist music video called 'Messing around' by Pitbull and Iglesias. Well… I worked as a manager in a travel agency for 20 years and I find quite expensive in September the cost of £995 for 6 nights and 6 days ??? First, this is a mistake. They should write for 6 nights and 7 days? Or are they asking money based on a mistake? The tour seems successful. This because when men in England are becoming old and unhappy are looking every opportunity to spend their rich pensions like taking pictures at young naked girls ready to be paid in cash and get a free holiday.
In my mind arrives the images of the squalid Berlusconi and his Bunga Bunga parties, lol!
My research carries on when my eyes are stopped by this profile.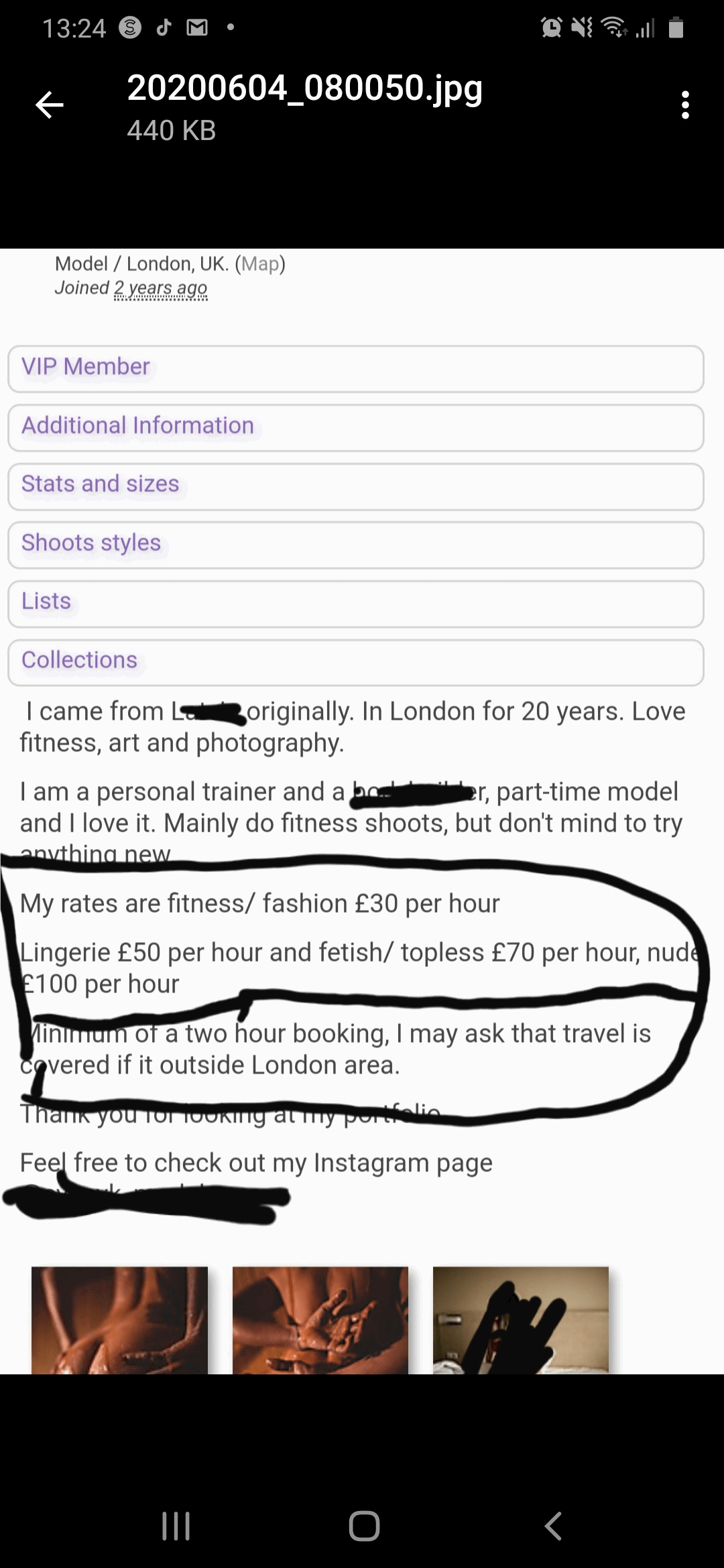 In this profile, you can see just a collection of her bum and her big artificial tits due to a work in the silicon valley.
But what makes me stand up from the chair are her rates !!
Look what she writes.
She asks up to £100 per hour to work naked and if she must travel outside London she pretends also the travel expenses!
mmmm quite expensive this personal trainer and part-time model !!
But I do not want to think that purpleport is an agency for escorts yet.
I want to believe at the words written on its landing page saying it is the best platform in Europe to meet creative ad doing amazing pictures!
But once I look into the everyday competitions to win a free month of VIP subscription, I see just a list of pictures of unknown models who could be used for a horror film.
And always the same people seems winning those useless competitions
And here again, reading the profile of another model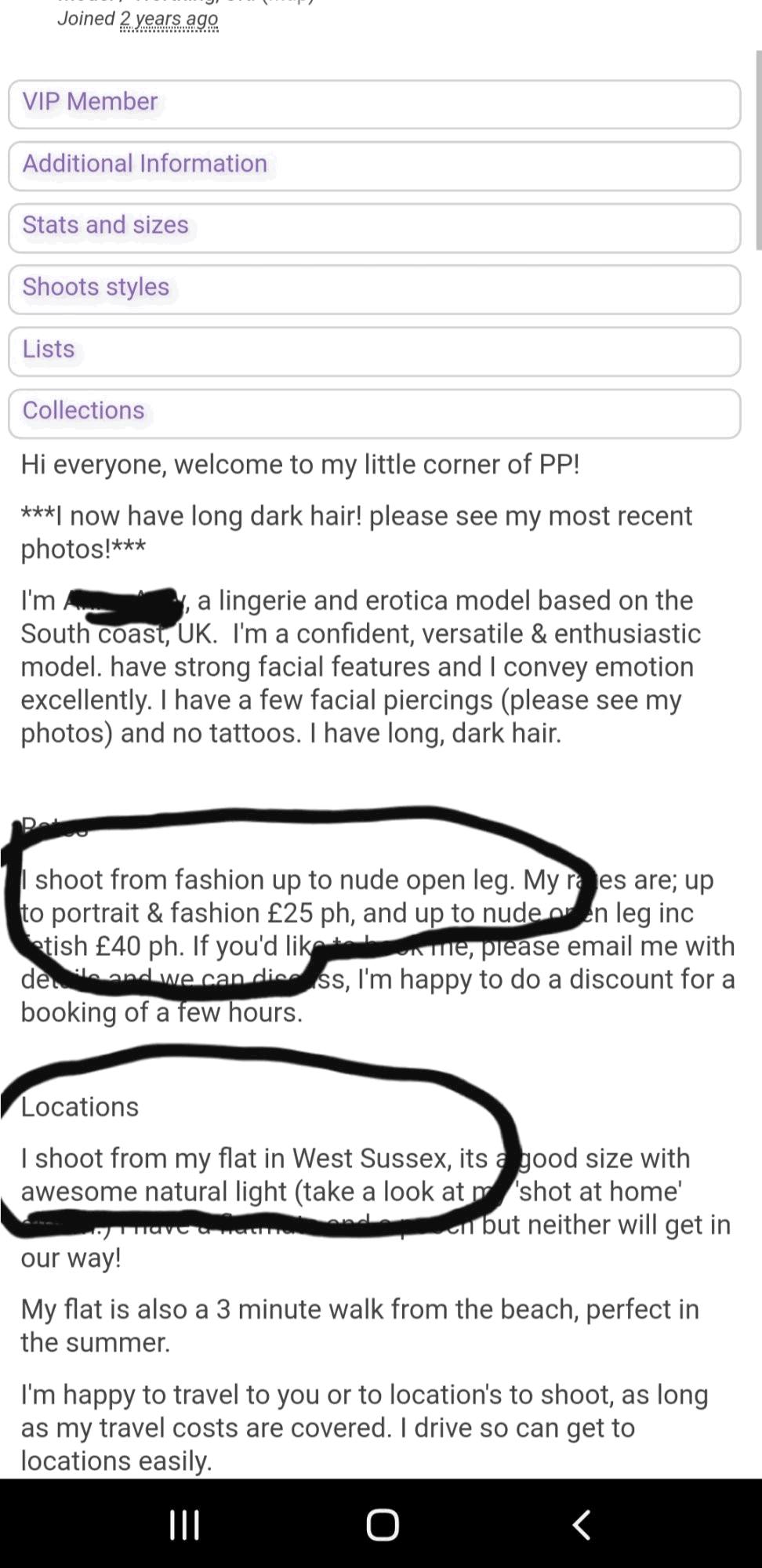 It seems quite common among the models of purpleport shooting in their homes … but they are really professional models with a UTR number declaring all their earning to the taxman through their self-assessment?
Also because the rates are very high.
How much is earning a standard worker in the UK?
As I know from £ 8.55 up to £12 per hour and you must take taxes off !
And this model is asking for her OPEN LEGS level £40 per hour!
I notice that many models write also the shape of their pubic hair in the portfolios of this strange website …it seems this pubic hair length business is the basis for many of them!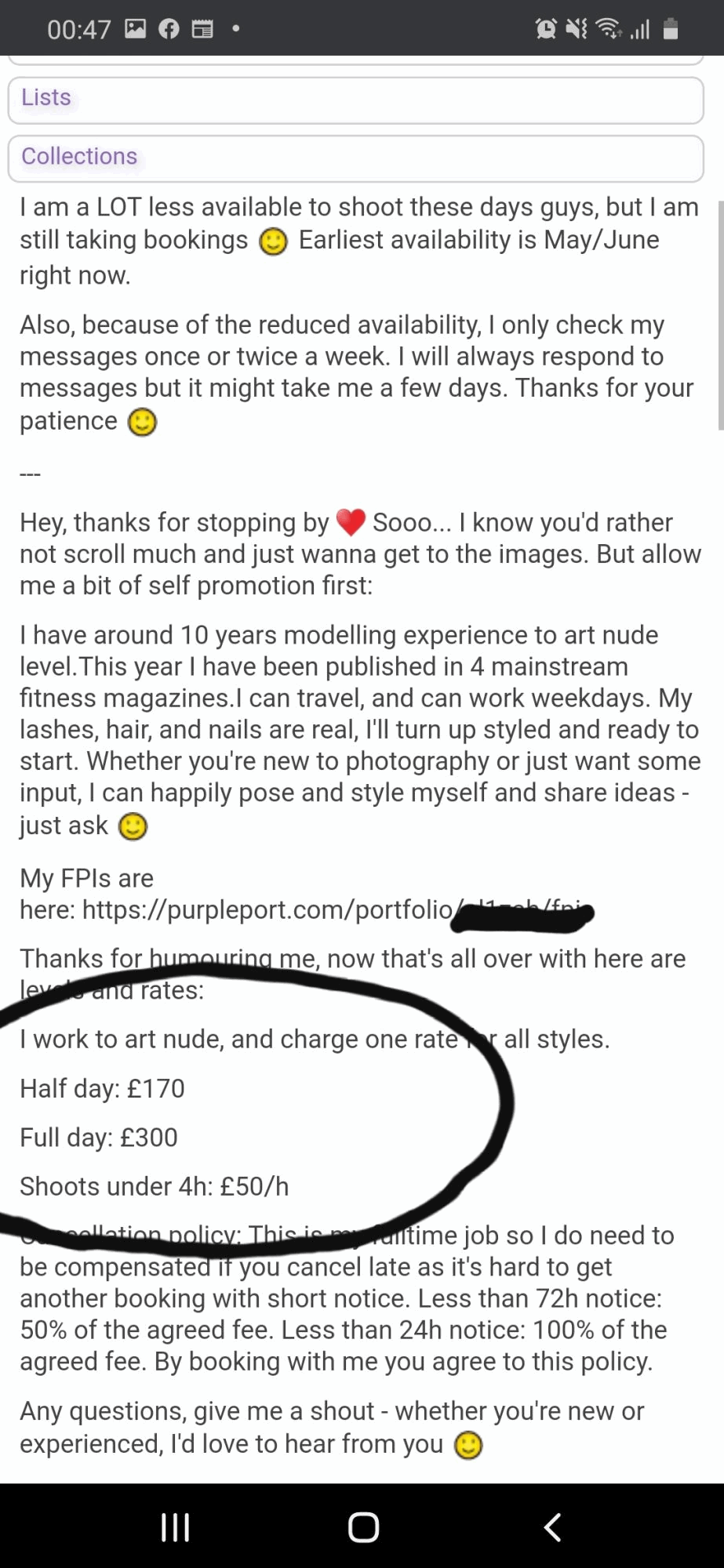 Here a model who says to be busy all day and has no time to check the mails on purpleport quite often but asks up to £300 for shooting all day or £50 per hour!
And she has no time to read the emails when asking such a fare ?? what a SNOOTY liar she is!
Yea lots of liars in that platform are appearing to my eyes.
Once you are inside the website nobody asks your bank accounts for these payments.
All the payments happen outside the platform!
I explain better :
the pensioner goes to the house of the model, he pays his £300 for a full day of shooting in cash without any contract of work to sign.
In all the other websites, every single payment is going through PayPal or a bank account and you need to fill a form to declare your taxes to the taxman.
But no on purpleport where the payment happen outside the platform.
In Uk, many people are left now down by Boris Johnson because of this tax evasion and illegal work!
But why it is allowed all of this?
Who is behind this website?
I am sure if I open a similar website today, in a week time is closed.
But this website is still there with its strange workers, pensioners, housewives declaring around to be professionals and asking unreasonable rates!
I carry on my research around and I discover that the photographer of Birmingham, the author of the mask pictures I uploaded at the beginning of this story is not of Birmingham but of Gloucester ( but he can write what he likes because no ID or proof of address is requested ).
He is working for the security of the government and as a hobby, he pays these models for these horrible pictures.
There are lots of these men behind purpleport maybe?
Like the dirty multimillionaire of Surrey paying a fortune his models to shoot in the dungeon of his villa?
Most of these amateur photographers were working for important roles in the English society and now retired and old …their wives are not interested in them anymore so they are looking a bit of distraction with young greedy girls or bored but poor housewives ready to play like models for some easy cash in their pocket?
Well at the end I have decided to keep myself far from all of that because I am sure nothing good is bringing at my career and … I do not find fair that for these people who are not behaving professionally thanks to their lies, now the Government has not enough money to help everyone during a tragedy like this.
Thanks for reading