Here i am this Sunday afternoon trying to increase the public for my artistic work and looking for some modeling websites to join.
A bit confused on the choise , i decide to look around in the web looking for some review and ...
The first website appearing on my research is purpleport dot com
I left the website a couple of years ago because very unhappy for the people met there .
Why an housewife who joins that website is allowed to advertise herself in her new profile as professional model ? How it is possible that the same housewife can ask in her castings advertised through the website £ 30/40/50 per hour to work in her own house or in hotel rooms or in studio sheds ??
Well guys i am confused , but optimistic .. maybe the rules inside the website are changed in the last couple of years and now we can work finally with professional people ..' never say never 'said my father .
So i arrive to a website called Trustpilot a consumer review website of Denmark
And on Trustpilot i finally find the attended reviews on Purpleport
Everyhting seems good
5 stars !! wow ! outstanding !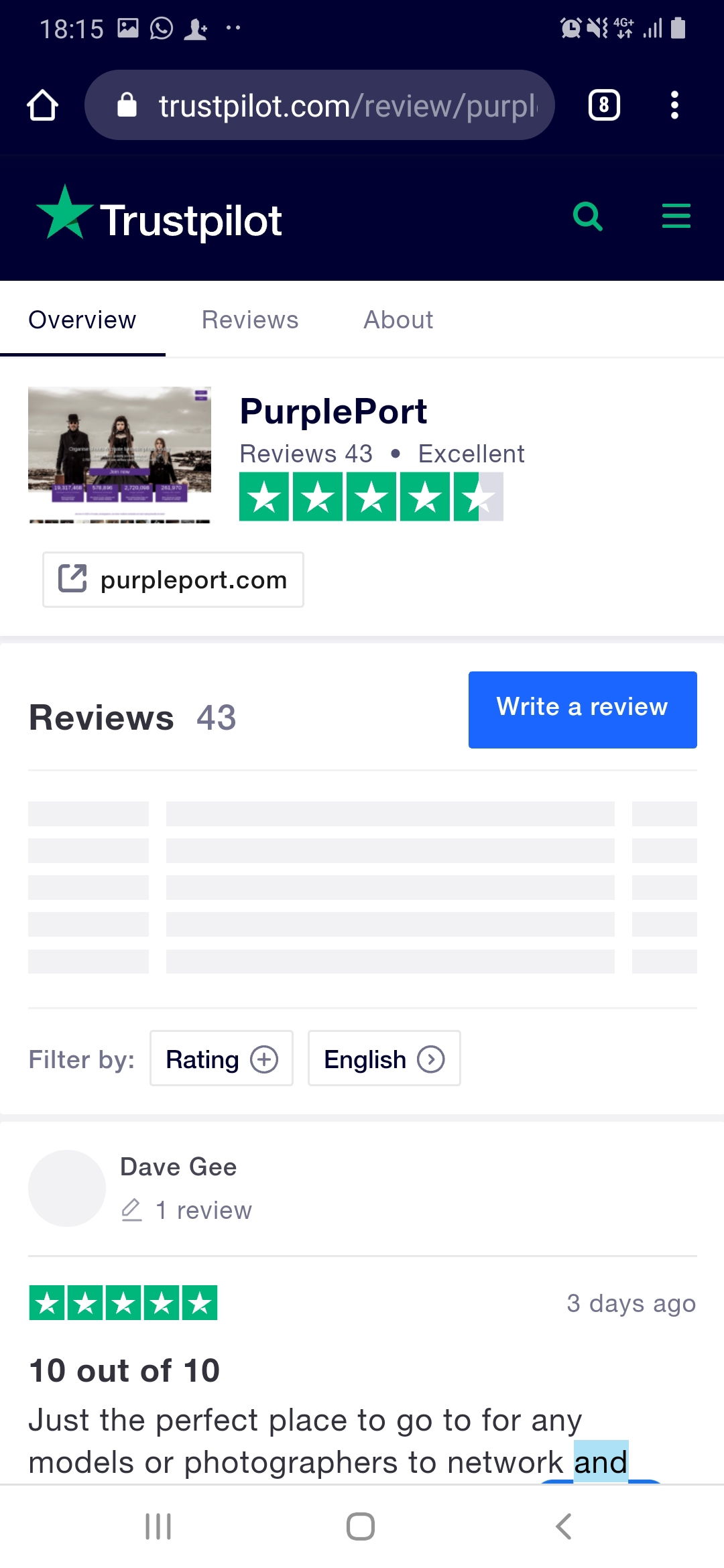 But my expert eyes quite soon start to read when all these 5 star reviews were written ?
Well guys ..i find the thing quite strange
All 5 stars reviews are written in the same days or consecutive days ?
I am not suspicious ..I trust Trustpilot
But why all these reviews written in the same days ???
And who wrote these reviews ?
My eyes see that those people have written only a review on trustpilot and it is for purpleport !
Someone told them to write a 5 stars feedback maybe ? why ??
On Purpleport there are forums and groups and some people are very active there
More gossip than photography
Maybe someone of the admins suggested their subscribers to go on trustpilot and write their 5 stars comment ????
It should not be like this on the consumer reviews websites.
They should help people to choose the right service and company .
And what a surprise !!
When again I look at the website , i discover the only two negative reviews have been canceled because purpleport does not mention a buying or service experience ..
Two reviews are considered against the rules of Trustpilot ?
Why ? having a negative opinion on purpleport is illegal in this country ? why ?
Uhm.. so all the housewives and pensioners who advertise their high rates through profiles and castings using purpleport are not a buying experience??
Well ..it is true .. No a single payment happens through Purpleport but these people sell themselves through the website and arrange photoshoots through the website and are paid outside the website
How they are paid ? cash ? coins ? gold ? silver ? services ? bank account ? paypal ?
And there is a contract of work behind these paid photoshoots confirmed through this modeling website ?
I am really confused ..so my research carries on
So i arrive to check some profile of unknown models on purpleport
Everyone can read these profiles because there is not protection at the eyes of the public
Included children ???? ohh nooooo this is bad
It means a kid can read that a woman can ask £50 per hour to do a fetish photoshoot ?
This kid could advise her mum to join the website so she can bring him to Disneyworld next Summer with the earning thanks to this strange new work ??
Anyway i write here on my blog what i see in a profile of an unknown model living in Wiltshire
And she is just an example
She writes :
Rates and levels:
The rates below are for one-to one non commercial bookings, please contact me with regards to other types of shoots.

Beauty, Fashion, nude and erotica - £40ph, £150 for a half day.

Open leg, and fetish - £60ph, £200 for a half day.
Toys and hard girl/girl - £70ph, £300 for a half day.

Minimum shoot length of 2 hours.

Home shoots
So ??? It seems people buy a service through purpleport ?
But on Trustpilot it is written that Purpleport does not mention a buying or service experience
Uhmm confusing !!
Anyway after a small research on my laptop appears another website with a few reviews on purpleport
But these time everything is completely different
It is called Sitejabber
The overview on purpleport is just only 1.71 star !!!! and it appears that most consumers are generally dissatisfied with their purchases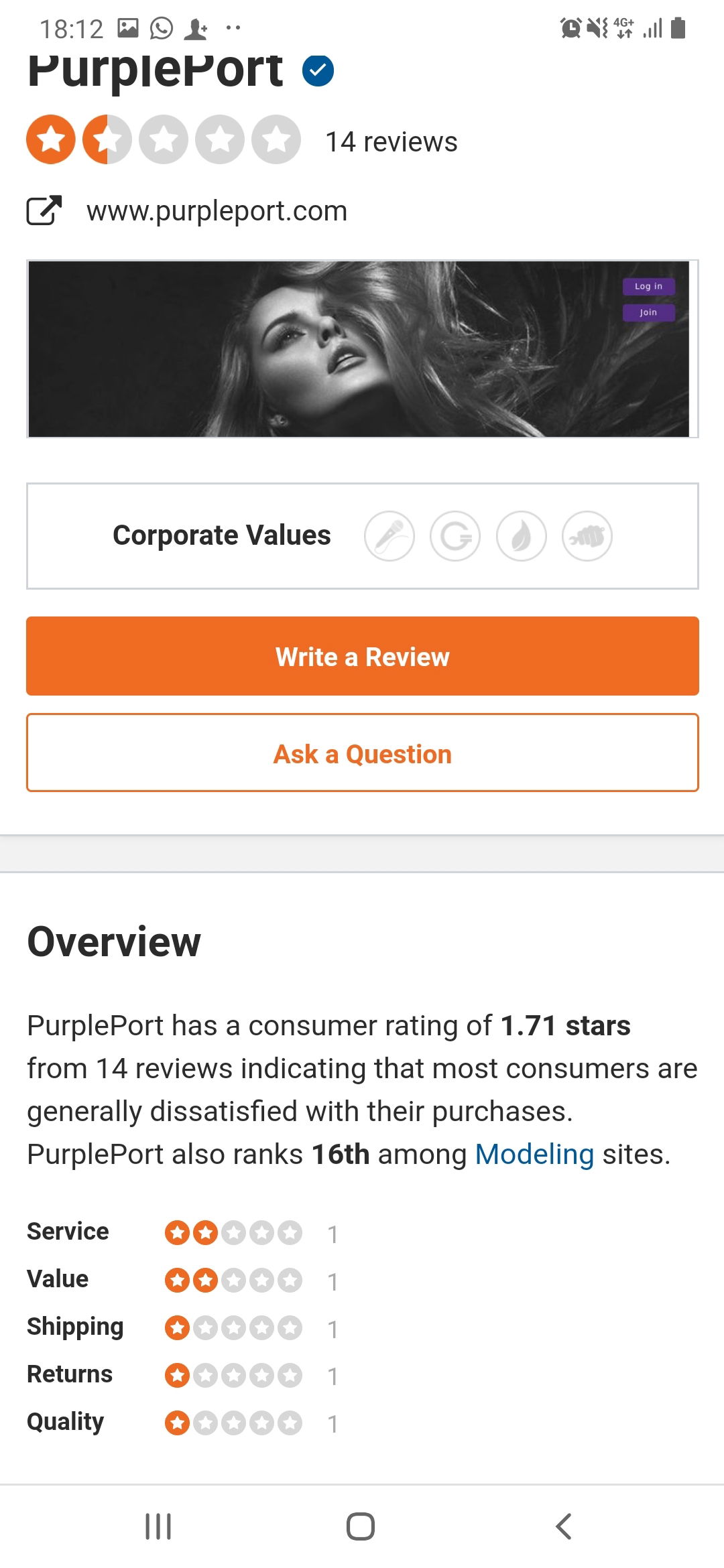 I start to read the revies on these webiste and i am horrified
Someone writes that the website allows for hatred towards different social groups !
Another one writes :
Was good , but there is religious intolerance among members , unchallenged which spoilt it
Honestly during my discovery of Purpleport as an external member ( it means i saw everything without log in because i do not have a profile there ) i saw pictures showing a Christian cross and naked models playing with it .. and the models seemed quite happy to play with the cross ... uhmm ..i find everything very upsetting
But i come from Italy and even if i am not a bigot i am upset when i see religious objects used with irreverence and disrespect
But Why on purpleport these pictures are accepted ???
Why these pictures can be seen when you do not have a profile there ? and even if you have a profile , why people upload such pictures ?People die for their religious faith but nobody cares there
Anyway i carry on with my research and discover that the companies pay Trustpilot for their space on the website
So maybe Trustpilot is trying to do a good job with whom paid people working there ?
I am not sure what to do
I must trust Trustpilot with purpleport rated 5 stars by people who have never written a review before and all together put their comments in the same days ? and no a single negative review ??? uhm a bit dictatorial ??
Or i trust Sitejabber where people do not pay the service and everyone is free to write an opinion to improve the community
Maybe after my blog is published today , all the negative reviews on sitejabber will be deleted , lol !!
A last thing
Someone called Steve G. wrote two positive reviews on sitejabber for purpleport .. it is allowed ? and why ? who is really this Steve G .? he wanted to increase maybe the negative rate??
And the same Steve G is the last one to write a positive review on truspilot about purpleport
Maybe this Steve G is an admin of purpleport ? paid to do his work there ?
So guys .. do you know what i do ?
I am totally confused and decide no to join any single modeling website
I prefer to deal only with professional people , casting agencies , professional studios and modeling agencies
I know .. i could be rich .. nowadays is so rare to find a job where you are paid up to £50 per hour to show a pair of flat tits in your home ... but l prefer my way
My way like the song of Frank Sinatra , lol
Thanks for reading