Life model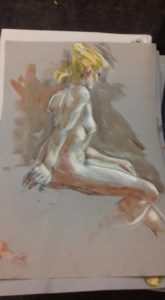 Since i have started to work as life model i have met so many interesting artists and tutors , increasing my knowledge and love for art
I joined a website called Model reg following the advice of a friend ... never i thought this website could change so in better my life .
Before i was part of a known BRITISH modeling website that i joined thinking to find good people and artists...instead i found just liars and PERVERTED with no interest towards art apart taking pictures at my naked tits and bum .
Nothing happened to me thanks at my personality and interior strength but i had lost confidence in any modeling websites because of that .
Instead since i started to meet tutors and artists in those drawing classes suggested by RAM , i could see only passion and love for art .
They were not looking at my naked body with a sexual interest...they were looking at me to reproduce my body on their canvas.
I love to see their concentration and the noise of their pencils or brushes on paper !!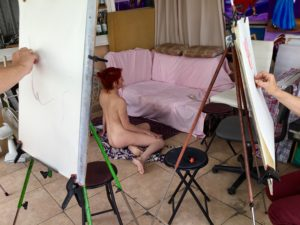 I started to paint in acrylics

After 4 years modeling for these artists i became very curios about painting technique and drawings .
I believed no to be able to draw or painting because when i was born i was left hand and my mum corrected me and i became right hand
Because of that i thought to have lost all my talent in drawings
One of the tutor told me that this was only bullshit !!! sorry the word but he expressed himself like that .
I could know my ability until i tried .
So i bought a sketch book and some pencils and some water colors.
My first painting
I began drawing with pencils my orchids and the result was quite good .
I really enjoyed those moments and decided to carry on .
But i like strong colors.
I am inspired by van Gogh and Picasso
So after a research on google i decided to paint in acrylics colors
I suggest to follow on youtube some lessons about technique and ideas
Many of these videos are done professionally and you can save lots of money


An hobby became a work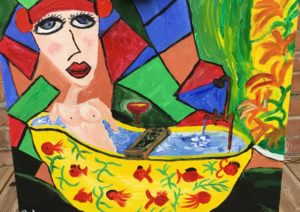 I am exhibiting my artwork in one of the most important city in the world !An the other open studio was in Swindon where i live part of my life
Now i am exhibiting in Bristol , my new home in an art gallery called DU808
thank you for reading :)