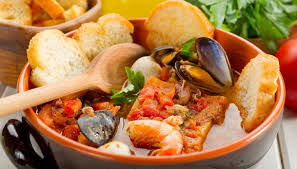 Livorno is a city 20 km from Pisa known for its touristic and commercial harbor.
The famous cruises stop in Livorno during Summer and every day modern ferries are leaving the city towards Sardinia or Corsica islands.
Livorno is a pearl on the Mediterranean sea.
It is not so famous as Pisa, but still an interesting place to explore to know some aspects of Italian culture.
It is a city based on the culture of sailors included their old but tasty recipes.
It is called Cucina Povera because is based on a mix of simple ingredients.
The Cacciucco is one of them .
It is believed the sailors decided to cook The Cacciucco with that fish they could not sell at the end of the day
There are many restaurants in Livorno, especially in the city center or near the harbor where you can find this incredible recipe
INGREDIENTS :
800 g of fish with bones (as tub gurnard and scorpionfish)
200 grams of dogfish
About 2 kg of squid and octopus
8 mantis shrimps
800 g of tomato sauce /paste
4 cloves of garlic
1 hot pepper
Extra-virgin olive oil
1 glass of red wine
Salt and pepper to taste
Slices of bread
PREPARATION
Clean and cut the squids and the octopus.
Boil the octopus in a pot
Clean and cut the fish with bone into two or three pieces.
Pour 100g of extra-virgin olive oil into a large pan, add a bit of hot pepper, the sage and two cloves of lightly crushed garlic.
Add the squid and cook everything on low heat.
Add the boiled octopus and sprinkle with wine.
Add the tomato paste and, after 15 minutes of slow cooking time, add the mantis shrimp and the dogfish.
Let it cook for another 20 minutes and add the other fishes with bones over a slow heat.
Add a bit of water or the octopus broth if necessary.
Cut and toast the slices of bread, rub with garlic and put them on the plate before serving the soup.
Buon appetito !!!
Livorno is really a perfect place for a city break
Thanks for reading and subscribing to my youtube channel and blog